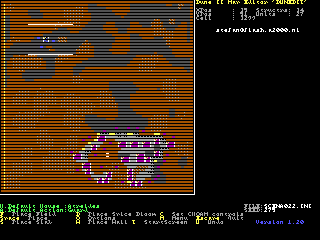 <! -- News item #1 --> And you thought you played Dune 2 till the end? I don't think so!

The very first project of Stefan Hendriks was to create an editor for Dune 2. What started with hand-editing INI files , ended up in a fully-working scenario editor. The only limit so far is that the "SEED" (seed=a number for the dune 2 program to create a 'map') files for Ordos where not all 'revealed'

An attempt was made to create a 'cuter' dune 2 editor, which eventually ended up in the project "Arrakis". <! -- END NEWS ITEM #1 -->



<! -- News item #1 --> What did it do?

With "Dunedit" i have made an entire new Atreides campaign for Dune 2. Just to show how it works, and with some courage i also edited a file by hand to create a whole new story. If you think you had played Dune 2, you should check that campaign out! You can grab Dunedit, the campaigns and tools at the downloads page.





<! -- END NEWS ITEM #1 -->